KEHA Week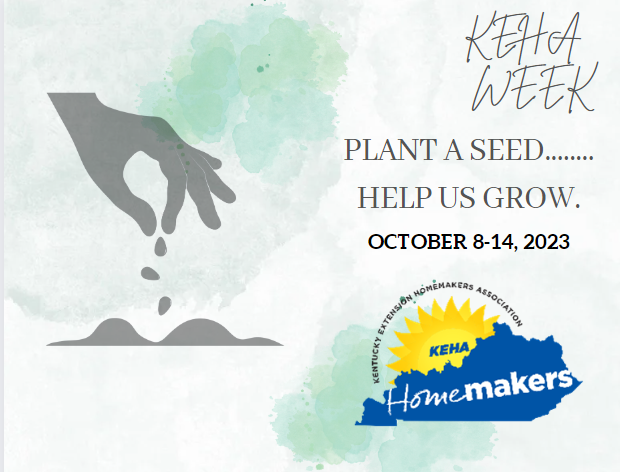 KEHA Week is annually celebrated the second full week of October.  This year the dates are October 8-14, 2023! Below are some ideas you can choose from to celebrate locally.
Use this worksheet to plan your county's KEHA Week celebration (KEHA Week Worksheet)
 
Review the presentation from the Celebrate KEHA Week learning session at the 2018 KEHA State Meeting – PDF version or PPT file.
 
Secure a proclamation from a local official (mayor or county judge executive). (Sample proclamation)
 
Record short public service announcements for the local radio station.
 
Work with the local newspaper for articles and feature stories.
 
Post and pass out information around town, including grocery stores, businesses, banks, libraries, etc. 
 
Distribute fliers into the community advertisnig the volunteer service units and their value to your local county this past year.(Calculate the value using Kentucky state-by-state data from independentsector.org.)
 
Post daily messages to any club, county or area KEHA social media pages. Include photos showcasing local projects and encourage membership with these posts. Include #KEHAWEEK with your posts.
 
Highlight any planned KEHA week events on social media pages and include #KEHAWEEK with your posts. During the week, share the posts from www.facebook.com/officialKEHA or schedule your own posts using the resources below. (If you need the graphics in an alternate format, email Kelly may at k.may@uky.edu.)
 
Host a reception during the week to honor county KEHA members.
 
Place banners in the town square or along prominent streets.
 
If any community festivals or events take place during or near KEHA Week, host an exhibit.
 
Set up displays or exhibits around town to celebrate KEHA Week. For example, you could prepare an exhibit at public establishments like banks, libraries, the Extension office, store fronts, or the town square. Displays in store windows (operating or vacant) or in local malls or shopping centers could highlight county projects completed in the last year.
 
Host a KEHA Breakfast on a designated day during the week.
 
Host an open house to promote KEHA, encourage membership, and highlight projects and programs of your county organization.
 
Hold KEHA Day in the Town Square or other prominent location.  Activities could include make-and-take-it classes, food vendors, craft vendors, and more.
All of us promote the Extension Homemakers program and think we do a great job until someone says, "What is KEHA? What do they do?  I've never heard of the organization."  The purpose of Kentucky Extension Homemakers Week is to get the word out.  Plan your celebration and help grow KEHA membership!
Resource Guide for KEHA Week
A resource toolkit and guide has been developed for your use in celebrating KEHA Week in your county. Please review the 2023 KEHA Week Informatoin Guide linked below for information regarding the resources provided on this page.
2023 KEHA Week Information Guide
KEHA Milestone Journal
KEHA Gift Certificate Card
Celebrate KEHA Week Graphics (PNG Format)
Daily Graphics (PNG format)
Instructions for personalizing gift card PDF in Adobe Acrobat:
Open PDF in Adobe Acrobat.
Click Edit PDF from the action menu (usually to the right of the document.) Highlight the box with the information you want to change (XXX,Street Address, and town) and make appropriate changes. Click Close button in top left corner. 
Click File then Save as from the top task bar.  When save box pops up, select location to save file,  Click Save button. 
If you need assistance personalizing the file, please contact Mindy McCulley , Marketing and Public Relations Chairman Advisor, 859-218-1544.