Welcome!
This web page is designed to provide you with information about the KEHA International Program of Work and projects
Resources for you:
KEHA Coins for Change
The KEHA Coins for Change program supports international projects through both KEHA and the Associated Country Women of the World (ACWW). Each year, half of the funds collected through Coins for Change are forwarded to ACWW for their Rural Women in Action Program.
Kentucky Academy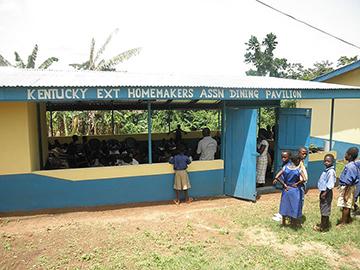 KEHA has worked to support the Kentucky Academy Kindergarten in the village of Adjeikrom in the eastern region of Ghana, West Africa.  Since 2008, KEHA has funded improvements to the facilities that include:
Ceiling and ventilation improvements
New floors throughout the building
Landscaping and drainage improvements
New furniture for classrooms
A new well for improved water supply
Construction of a kitchen and dining facility
Construction of a community library building (in progress)
For more information:
Chairman: Marilyn Watson – MJMW1315@twc.com
or
Chairman Advisor: Leslie Workman - leslie.workman@uky.edu