October 2023 News and Notes
Deadline Extended for State Meeting Session Proposals – Do you know something that would be useful for other homemakers to know? Now is your chance to share! We have extended the deadline for learning session proposals for the 2023 KEHA State Meeting to Friday, Nov. 3. KEHA members are encouraged to share their knowledge by presenting a learning session. The form can be found on the State Meeting webpage. Send the form to: Ann Porter, KEHA 1st Vice President, P.O. Box 88, Washington, KY 41096-0088 or annsporter42@gmail.com. Contact Ann Porter with questions at 606-584-2510 or by email.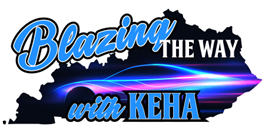 2024 State Meeting – Next year's KEHA State Meeting will take place May 7-9, 2024, at Sloan Convention Center and Holiday Inn University Plaza in Bowling Green. The theme is "Blazing the Way with KEHA." Fort Harrod Area will serve as the host area. Reserve your hotel room now in the KEHA group block! The group rate is $126/night (1-2 people; scaled pricing for more people per room). Details are on the State Meeting webpage.
KEHA Week – Thank you to all who participated locally and via the KEHA Facebook page. We hope you all enjoyed celebrating how KEHA "plants the seeds" for future growth during Oct. 8-14 and beyond! Kudos to Sharon Fields, KEHA Marketing and Publicity Chair, and Mindy McCulley, Marketing Advisor, for coordinating materials for the week. If you have feedback, please share.
Nominations Sought for Kentucky Master Farm Homemakers Guild – The Kentucky Master Farm Homemakers Guild is dedicated to honoring farm women and promoting agriculture in Kentucky. The Guild is currently accepting membership nominations from all Extension areas. A person recognized as a Kentucky Master Farm Homemaker:
Is a member in good standing of the Kentucky Extension Homemakers Association and has been a member at least three years (mailbox members are eligible);
Is a farm woman who owns a working farm and is included in the labor and/or management of the farm;
Derives a percentage of the family income from the farm operation;
Is knowledgeable and supportive of the Cooperative Extension Service;
Gives unselfish service to her family, community, state, and nation; and
Is nominated from the club, county and/or district where KEHA membership is held.
The County Info Sheet and details regarding the new member selection process are available on the Master Farm Homemakers Guild web page. County nominees should complete and submit the County Information form by Nov. 15.
Renew Your Membership – Fall is membership drive time for KEHA. The current membership campaign says the "Keys to Membership" are the three Rs: Recruit – get a plus one, Retain – value members and engage, and Repeat – continue to grow. More information about the campaign and possible prizes is available on the membership campaign webpage.
Gift Membership – Did you know you could give the gift of KEHA membership? A gift certificate card template is available on the website for those who want to cover the dues of a new recruit. Be sure to share how the potential new member could benefit from being a KEHA member – and also let them know why KEHA is important to you!
Dues Collection – Counties are encouraged to have a dues deadline no later than Dec. 1. Dues payment and the remittance form (KEHA Manual Appendix page 16) should be mailed to the area and state treasurers by Dec. 15. They are delinquent if not received by Dec. 31. Counties that are delinquent will not be permitted to have voting delegates and rights to vote at the 2023 state business meeting.
Nominate a Candidate for KEHA State Board – Be on the lookout for possible state nominees! Encourage candidates to consider applying. The following KEHA state officer and chairman positions will be open for election in spring of 2024:
President-elect
Second Vice President
Cultural Arts & Heritage Chair
Family & Individual Development Chair
International Chair
These positions will be elected for three-year terms from July 1, 2024, to June 30, 2027, with the exception of president-elect. The president-elect serves a one-year term is from July 1, 2024, to June 30, 2025, at which time she or he will transition to president for a three-year term. Additional details regarding elections will be shared in January 2024. Qualifications for nominees are listed on page 12 of the Handbook. 
Forms – Make sure you are using the most current KEHA forms from the Manual and Appendix. Older forms may have incorrect names, emails, and addresses. For up-to-date forms and Manual information, visit https://keha.ca.uky.edu/content/keha-manual.
Dates to Remember
Oct. 31 – Due date to send Area KEHA Officer Directories to the KEHA President and State Advisor. Use directory form found in the KEHA Manual Appendix pages 12-13.
Nov. 3 – Extended deadline for submitting session proposals for the 2024 KEHA State Meeting.
Nov. 13-14 – Fall Board Meeting at Embassy Suites Coldstream
Nov. 15 – Due date to nominate new members for the Master Farm Homemakers Guild.
Nov. 15 – Due date for 990N (e-postcard) or 990 tax return for 501(c)(3) groups with a fiscal year ending June 30.
Dec. 15 – County dues due to the KEHA State Treasurer and Area Treasurer (use remittance form found in the KEHA Manual Appendix page 16). Please send remittance to Patsy Kinman, KEHA Treasurer, 310 Falmouth St., Williamstown, KY 41097.