Kentucky Extension Homemakers Association Holds 88th Annual Meeting
Kentucky Extension Homemakers Association Holds 88th Annual Meeting
The Kentucky Extension Homemakers Association (KEHA) held the organization's 88th annual State Meeting at the Owensboro Convention Center May 10-12, 2022. More than 430 attendees from across the state, including 73 first-time participants, took part in the three-day meeting celebrating the covered bridge-related theme "KEHA, We've Got You Covered."
KEHA President Karen Hill shared, "I am so excited that we had so many first-time attendees. Hopefully, they will go back and tell their friends what a great event it is, and they will want to come next year. I think an underlying theme is about the friendships that are formed through homemakers, and hopefully, that is a reason to join."
The opening banquet on May 10 featured a keynote from Jason Koger of Owensboro, who shared an inspiring story of leaning on his faith to overcome insurmountable obstacles. KEHA also celebrated 45 years of support for the UK Ovarian Cancer Research and Screening Program with the presentation of awards during the opening banquet. Dr. Edward Pavlik, Ovarian Cancer Screening Research Director, was presented with a check for $33,269.91. KEHA's lifetime contribution to the program is more than $1.58 million.
During the May 11 general session, the KEHA Choir performed seven songs, one of which had lyrics written specifically for this homemaker event. The 32-member choir includes KEHA members from 25 counties and is under the direction of Wendy Hood, current Fort Harrod Area President. The general session also featured a presentation by Allen Blair with the Kentucky Transportation Cabinet, District 9, who shared the history and highlights of Kentucky's covered bridges in a virtual photo tour.
Three fundraising activities conducted as part of the meeting yielded more than $6,700 to support designated projects. A raffle generated $2,129 to add to the contributions to the UK Ovarian Cancer Research and Screening Program. A silent auction raised $2,614 to aid in hosting the next KEHA Leadership Academy upcoming in 2023. More than 280 handmade quilt squares were displayed and auctioned, providing $2,035 to support the meeting program.
This was the first full meeting since the pandemic. Out of an abundance of caution, the 2020 meeting was canceled and the 2021 meeting had limited registration. Kentucky's homemakers were excited to be back in-person to learn and network and bring ideas home to their counties and clubs. This year also marked the return of the popular Cultural Arts and Heritage contest viewing.
"The highlight of the event was seeing homemakers meet new people and make new friends and learn new things," said KEHA 1st Vice President Henrietta Sheffel. "I hope to see everyone at the Crowne Plaza in Louisville next year."
The annual state meeting provides a time for training, networking, recognition, and celebration. Attendees participated in educational seminars addressing topics ranging from healthy cooking to history, and from utilizing technology to volunteering and fundraising. A series of concurrent workshops provided training in each of KEHA's eight educational program areas of emphasis. The KEHA State Meeting concluded with an awards luncheon and the installation of newly elected officers.
KEHA is a non-profit membership organization dedicated to education, leadership, and volunteer service. To learn more, like and follow the organization's Facebook page at www.facebook.com/officialKEHA or visit www.keha.org.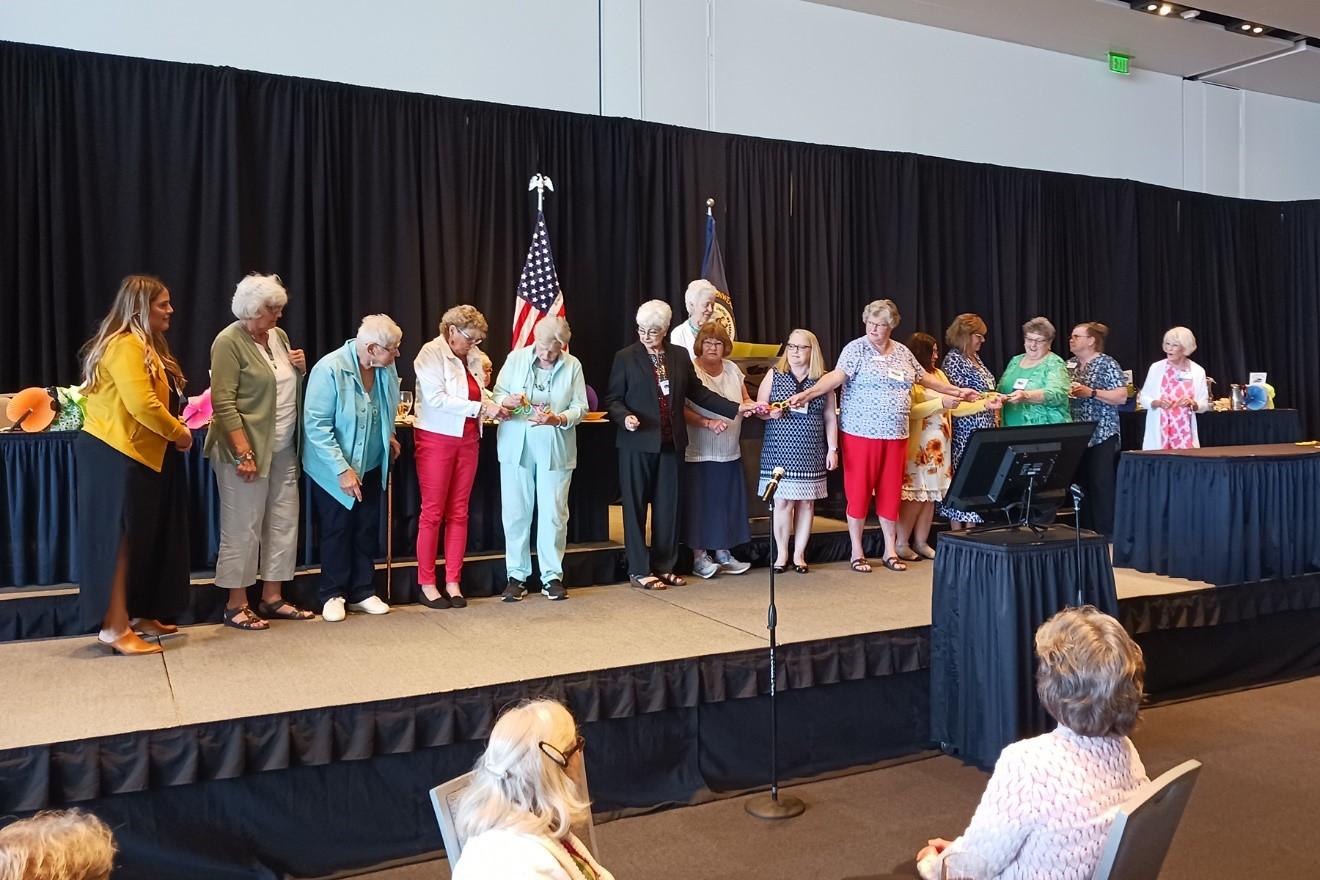 The newly installed KEHA officers connected ceremonial "links" to demonstrate the connections that KEHA makes in local communities, just as the covered bridges connect roads and cities.