KEHA Adopts New Logo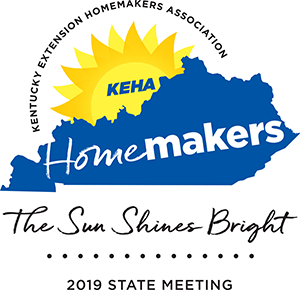 The Kentucky Extension Homemakers Association voted to adopt a new logo during the state business meeting held May 8, 2018. The new logo represents the first update to the organization's branding in decades and provides the affiliated clubs, counties and areas with a fresh, new image for the organization.
The idea of a brand refresh was introduced by KEHA Marketing and Publicity Chair, Jennifer Williams. Working with the KEHA State Board during the six months prior to the state meeting, Williams honed in on an organizational brand that incorporated a bright new color palette, updated fonts and a new emphasis on the word 'homemakers'. Williams shared, "KEHA members across the state are focused on the home and embody the word 'makers'. From making beautiful works of art to making a difference in communities across the Kentucky, the organization is focused on enhancing family and community life."
Marlene McComas, KEHA State President, is excited about rebranding the organization with a fresh, new look. "Our organization has a rich heritage dating back more than 85 years, and we remain relevant today. Our new logo is more reflective of current designs and will be more user friendly for digital communications."
The logo will be adopted statewide during the coming months through print materials, websites and social media platforms and replaces the previous logo featuring block letters KEHA inside the state of Kentucky. Updates on the new logo and its usage will be shared at www.keha.org under the "Market & Recruit" tab.